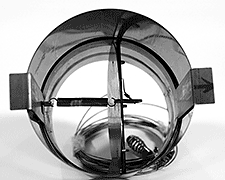 Now in Production: the Spider™ DROP-IN™ Damper Sleepy's Second Generation 100% 316-L Laser Cut Top Damper Redesigned hinge mechanism, stop spring, cable attachment, SS springload mount, aerodynamic and transparent 32' SS Cable • Lifetime Warranty
SPIDER™ DROP-IN™ DAMPER DESIGN
ADVANTAGES:
The Spider™ DROP-IN™ Damper is made of 316-L stainless construction will withstand repeated chimney fires and will not melt like aluminum designs. The recessed design does not induce additional turbulence at the flue's termination point or interact with the prevailing wind.
All clay flue tile sizes, round single wall, flexible
flue liners, class A solid pack, and air insulated
factory flues are accommodated. Installation is
simple and damper is recessed approximately 6
inches below the flue's termination point–ideal
for restoration projects where an exposed damper
is objectionable. A rain cover of your choice can now be installed over it–without fear of a freezing or sticking damper. The Spider™ DROP-IN™ Damper is the ultimate replacement for worn-out, warped and defective factory-built zero clearance dampers. Available in all round sizes: 6 to 24-inch. The Spider™ is now the standard damper for the Bellfires Refractory Fireplace. The Spider™ DROP-IN™ Damper model offers a spring loaded damper that will allow unlimited adjustment to the open positions of the
damper.
Spider Damper, DROP-IN™ II Spider Damper, 316-L Top Mount Laser Cut Damper, flue damper, Chimney damper, round damper, cable spring chimney damper, chimney caps, fireplace dampers, chimney cap, Lyemance dampers, custom chimney caps, chimney covers, copper chimney caps, flue caps, flue cover, turbines, spark arrestor, copper vents brentwood, spider damper, spider dampers.